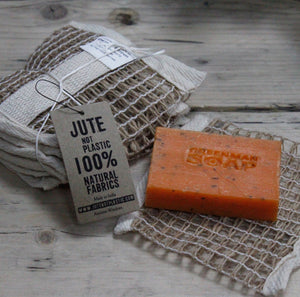 Place your soap slice or Himalayan Salt Soap inside the bag and it will gently exfoliate and cleanse your skin.

It's recommended that you remove your soap after use, to allow the bag to dry out. It can be washed at a low temperature too.
Jute is a natural fibre obtained from the bark of the white Jute plant, or Corchorus capsularis. It uses much less water to produce making it hugely eco-friendly and it's also 100 percent biodegradable.