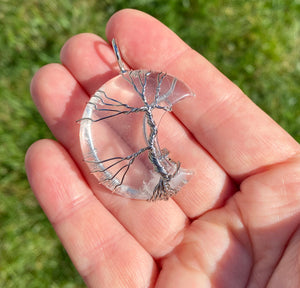 Tree of life wire wrapped around moon shaped clear quartz | pendant only.
Clear quartz, also known as Quartz or rock crystal comes as translucent or white hexagonal crystals & masses, grains and druzy clusters, sometimes with inclusions.
A feel better stone which improves your quality of life and re-energises you.
Emotional: Helps the mind to focus, relives negativity and aids meditation.
Physical: Known to help any condition as it channels any energy. Also good for diabetes, issues with the ears, heart problems, MS, ME, spinal health, obesity and weight loss.
Chakra: All
Zodiac: All
Element: Air
Hardness on the Mohs Scale: 7